Fashion
News
Fashion Q&A: Lisa Stannard
Manchester-based print designer Lisa Stannard tells TFN about her print designs...

What is your background in illustration and how did you start?
I studied Fashion Technology at Manchester School of Art but realised half way through that I loved drawing and print design. I took a big step by leaving the course and starting all over again in Textiles. I always used an illustrative style within my prints, but during my final year I started to draw fashion illustrations as well, which soon became as much part of my collections as my final prints.

Whereabouts are you based?
I am based in Manchester in the Northern Quarter, I rent a studio space in the LOVE. offices, it's a great place to work!

What is your personal artistic style and the inspiration behind your work?
I am influenced by so many different things. It's a very free way of drawing, I try to apply the same drawing techniques I was taught all the way through University. I use a Graphics Tablet and draw straight onto screen. I used to draw by hand first and work over on the computer but now I can draw straight on there. I am really influenced by Japanese Artists and Manga. My favourite illustrators are James Jean, Julie Verhoeven. My current favourite fashion designers are those who are my print idols, Mary Katrantzou, Matthew Williamson, Etro, Jonathan Saunders and Suno.

What kind of services do you provide?
I design prints for different designers and brands within the fashion industry, I also commissioned artwork for different products, illustration and print projects. My online shop is really a side thing. I am trying to expand by introducing phone cases and my new jewellery collaboration and eventually a limited collection of garments.

Tell us more about your biggest break so far working with Whitney Port, and the most memorable aspects of it.
I think the whole way we started working with one another is the most memorable aspect of it. I was already in my first year of freelancing when we started working together and I have been luckily enough to grow with the company. Working with them has given me so much experience not only in print design but in how a whole fashion collection comes together. I think the most memorable aspects of working with Whitney Eve is watching the final collection that everyone has worked so hard on walk down the runway at New York Fashion Week. I also love the start of a new season when Whitney and I are able to get together and be really creative with all the ideas and inspirations.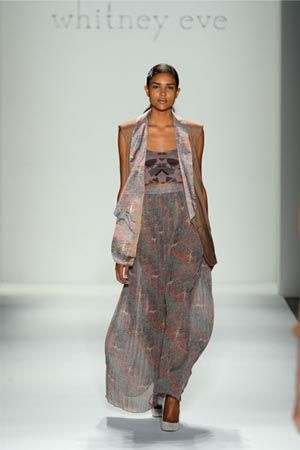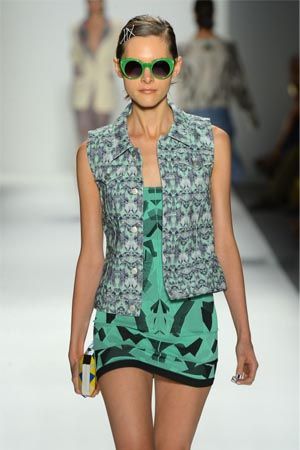 What advice would you give to aspiring freelancers/illustrators?
Don't be afraid to work for free, these projects are great experience and give you good exposure and are never wasted pieces of work for your portfolio. Gain a good online presence with your website and blogs this is great for networking. Be prepared to work late hours and long nights. If you're a person who likes a routine, freelancing probably isn't for you as things are constantly changing and no two days are the same.

What upcoming projects are you working on at the moment?
I have just finished working on Whitney Eve Spring 2013 and we are about to start Fall 2013. I am just this week finishing my exhibition for my agency Mill Co-Operation. I have a stall coming up selling sample garments, framed prints, posters and greeting cards at the Kopparberg ün-establishmenton, and then lots more print collaboration work with Emesha and a new brand called 381 London.

How do people go about getting in touch with you and requesting pieces?
You can contact me through my website page at www.lisastannard.com, browse my online shop or just email me at hello@lisastannard.com.

As told to Lauren Aisncough

Recent comments...
You must be registered and logged in to post a comment.
All comments submitted on this page do not express the views of MFN, we will endeavor to remove any offensive, rude, defamatory comments.