Fashion
News
Munkispanner presents Xpose Yourself
The Ruby Lounge, on the edge of Manchester's Northern Quarter, played host to an event straight out of the ordinary last Saturday night. Munkispanner, the Brit subculture fashion brand, presents Xpose Yourself, a platform to showcase independent design; music, dance and alternative entertainment talents within Manchester. The evening was a swirling mix of sweeties and sherbet, stilt walkers and burlesque, latex, MC, DJ and fashion. Of course, MFN was front row to document the night's bizarre proceedings.


Once the room had grown accustomed to the Funky Hip-Hop played by DJ Long Jon and the crowds had been warmed up, literally, by fire juggling stilt-walking burlesque mistresses the fashion shows commenced. The first brand to showcase was Kathryn Hanson Bespoke, a brand specialising in bespoke bridal and occasion wear. Hanson's designs range from the simple to the edgy, from floor length minimalist gowns to knee length sculptural dresses with fur stoles and an abundance of tulle. Her clean and elegant designs were greatly juxtaposed by the dark surroundings of the underground drinking hole, which was certainly to the credit of Hanson's work.
Kathryn Hanson

After one of the episodic bursts of interpretative dance, courtesy of Ultra Violet Violence, it was Emily-Jane Wade's turn to present her collection. Wade's brand focuses on sustainable fashions sourced from recycled materials that she hopes will invoke a sense of responsibility in her customer. Wade's designs were distinctly urban and touched on an almost sports/luxe vibe. This was well conceived and demonstrated a look that was as timeless as she hopes the materials used to create her designs will be. Hooded capes and scarves provided Wade with a signature look that would communicate well within a commercial retail environment.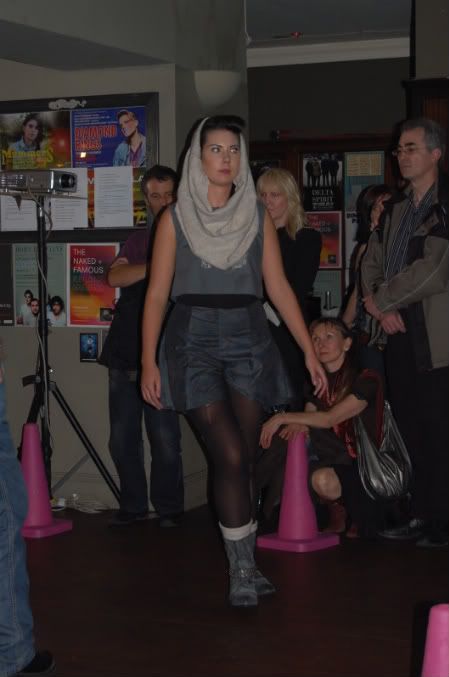 Emily Jane Wade

Not For Ponies have recently opened a shop on the 3rd floor of the independent fashion emporium, Afflecks. The brand considers itself to be "sustainable streetwear" which sources organic and fair-trade materials and makes all its fashions in Britain. The label is now famed of the quirky critters that don the T-shirts and Hoodies. Not For Ponies emits a confident aethstetic which both harnesses its streetwear style origins whilst welcoming the less streetwise to participate in the game. Models wore Zebra masks and Beckie Andrews, the designer, wore a doodled on paper bag over her head for her bow to the applauding crowds.
Not For Ponies

The last collection to be showed was that of the host brand Munkispanner, the brain child of Caroline Baldry and her husband Jon. The brand was set up in 2007 as a "Mod ready-to-wear label" but has since then added a sub-brand to its repertoire, Caroline Dionne Bespoke, and so can now cater for everything from Vintage inspired Bridal wear to men's Mod T-shirts. Munkispanner showed a collection of vintage inspired womenswear which also alluded to Art Deco with bold geometrical shapes and lines mixed with nipped in waists and satin. Colours were jewelled crimsons and emerald greens which as well as bring a break from the norm was also fittingly Christmas for the Autumn/Winter period.
Munkispanner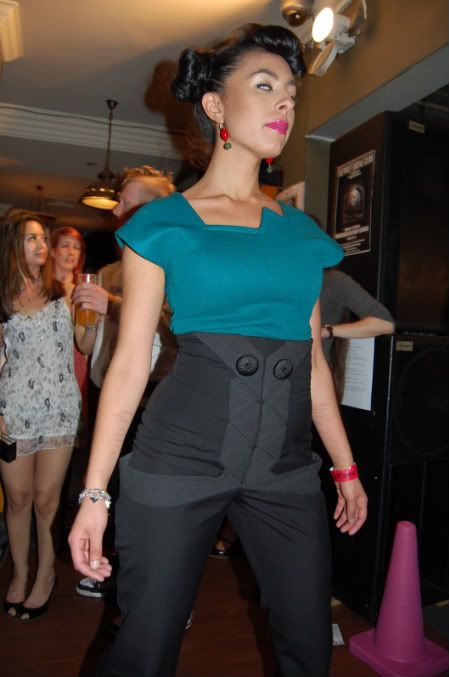 Munkispanner

After the shows had come to a close, the crowd took to the dance floor and were treated to music from headlining act Lostrites and a DJ set from Mr Breen.


Words and images by Jordan McDowell.
If you liked this article, you may also like Five Minutes With... Noted Fashion photographer Nigel Barker...

Let us know what you think about this article by joining us on Twitter, direct your tweets to @TheFashionNetUK
Recent comments...
You must be registered and logged in to post a comment.
All comments submitted on this page do not express the views of MFN, we will endeavor to remove any offensive, rude, defamatory comments.