Fashion
News
Five Minutes with ... Joe Corre and Simon Armitage
A brand like no other, A Child of the Jago is the brainchild of Vivienne Westwood's offspring and founder of Agent Provocateur, Joe Corre, and his friend and partner Simon Armitage. The pair create menswear from the leftovers of fast fashion. Quality fabrics that are disposed of by factories with no further use for them are turned into fashion by Jago; simultaneously a comment on fast fashion and a way to give a brand a certain niche. The Fashion Network met with the business men and designers at Hervia Bazaar in Manchester's Spring Gardens to chat about their brand and their Spring/Summer collection.
Oscar Pinto-Hervia and Joe Corre

The Fashion Network: A Child of the Jago is a brand inspired by the book of the same name by Arthur Morrison, a book which deals with poverty stricken East End Slum kids in London. Did the book also inspire your own and your brand's ethical philosophy?
Joe Corre: I wouldn't say the ideas came from the book. When we were growing up fashion was about independents and people made their clothes. This is what we wanted to do with Jago, we named it after the book because we based the store in the East End and the novel reflected what we're into; making pieces and mixing it with antique clothing.
Simon Armitage: The brand was a way for us to use our ideas. The idea about using fabrics that are the left overs of fashion and using our own manufacturing factory or locally is very kind of ecologically centred.
TFN: So, are the Jago product made in the UK?
SA: They're all made in our studio. This is where 'ethical fashion' comes from. We'll find a roll of fabric that hasn't been seen for 70 years and made something out of it. That is how we source most of our fabrics. We're not contributing to more production and harming the environment.
TFN: What brand's fabrics have you used for Jago in the past?
SA: Mostly really good Mills and the fabrics used on Savile Row or by Chanel Couture. And a lot of good British crop, Irish linen.
TFN: There is a coherency throughout your brand's seasonal collections but what is the story for S/S'11?
SA: We wrote a bit of a play, neither of us are into Television. We sat around one day after the banking crisis and wrote a play about a Banker that looses all his money and has nothing left to sell but the Bank's money bags. All the clothes are based on the characters in the play.
TFN: Your brand has a high price point but a youthful aesthetic, who is the Jago customer?
JC: When we started this store we wanted to make clothes that we wanted to wear. So, I guess we're the customer.
SA: Our customer is into fashion and has money. They're as varied as people from the stage, bands and theatre, the gay crowd and the rock crowd.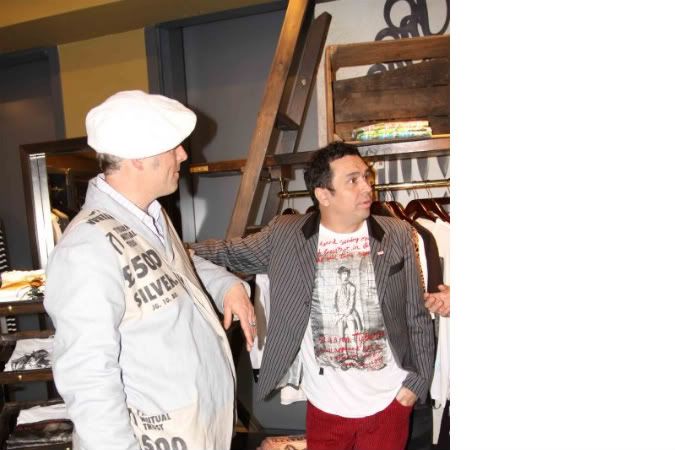 Joe Corre and Simon Armitage

TFN: Will the Jago website go transactional any time soon?
JC: We're sticking with the independent boutiques because if people want to buy over the internet they can call or email us.
TFN: Do you get much custom that way?
JC: Lots, especially from up here in the North West.
SA: Leeds is a popular place for us, as is Manchester.
Interview conducted by Jordan McDowell, images courtesy of Hervia Bazaar.
If you liked this article, you may also like ... Five Minutes with ... Eudon Choi

Let us know what you think about this article by joining us on Twitter, direct your tweets to @TheFashionNetUK
Recent comments...
You must be registered and logged in to post a comment.
All comments submitted on this page do not express the views of MFN, we will endeavor to remove any offensive, rude, defamatory comments.