Fashion
News
Five Minutes with ... Mary Portas
For the last few years Mary Portas has graced our screens as the Queen Of Shops; her straight talking, no nonsense approach has helped failing retailers across the UK save their business. But, now she's putting her money were her mouth is by creating her own range of shoes, with high street shoe retailer, Clarks.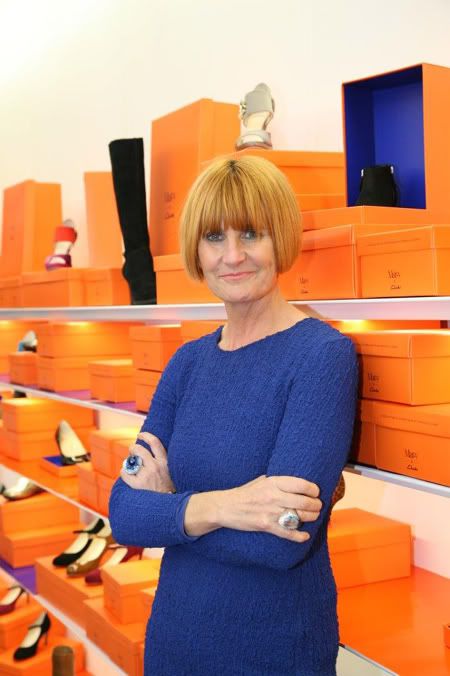 Last week Mary came to clarks' Market Street Store in Manchester to launch her capsule collection and TFN where lucky enough to grab five minutes with Mary…..

The Fashion Network: So Mary, Why Clarks?

MP: Simply because they make the best shoes. Their archive, their sophistication, their design ethos and the fact they have 175 years experience at being the best British shoe makers on the highstreet. It's a no brainer.

Mary at the Manchester Market Street Team at Clarks
They are also so professional. When I started working with them there was no cutting corners. I am obsessive and they are just as obsessive at getting it right, which means we've ended up with something that's brilliant.

I mean we've sold 9,000 pairs of shoes in four weeks, so the proofs there.

TFN: How did you come up with the designs for the shoes?

MP: I have a very clear vision. I don't believe in companies that over analyse and do too much research before. If you look at some of the top designers and highstreet retailers, they have one vision and through not being caught up in a corporate chain of thoughts they are able to create directional product.


TFN: Do the shapes of the designs and colours reflect your personality?

MP: Yes, but not only that - we looked at the seasons and colours. I knew the berrys, the oxbloods, the forest greens were all going to be staple colours to women's winter wardrobes. But, sassing it up for the evenings, with the leopard prints, kitten heels and the lipstick reds.

TFN: What's your favourite shoe from the collection?

MP: Probs the little La Portas boot, but I would say that wouldn't I.


The La Portas Boot

TFN: How Important is it for you to do events like tonight and meet your customers?

MP: It's vital. It's the only way you really get to know, what customers truly think of your product.

I often feel if you do research before creating a range you don't get peoples true opinions, because they don't often know what they want. It's only afterwards when customers see the product you can get some true feedback.

Say for example, when I am on the shop floor in House Of Fraser, people are often quite up front (sometimes plain rude) and say I don't like this or that or I'd never wear that colour and I love it, I really appreciate straight talking and honest criticism It's such a buzz working the shop floor and meeting people, I hate leaving it.


TFN: Finally, you've assisted and collaborated with a lot of highstreet retailers. If you had to create a range with a designer, who would it be?

MP: It would have to be Antonia Berdari. He is one of the best and amazing designers out there. But when you're doing collaborations it's about having an energy together and that's how it can only ever truly work and for me if I don't have that it never works.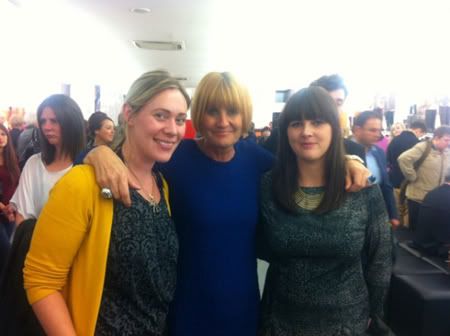 Katrina Urwin, Mary Portas and Emma Doyle
Words and images by Emma Doyle
If you liked this article, you may also like ... Five Minutes With ... Todd Lynn
Let us know what you think about this article by joining us on Twitter, direct your tweets to @TheFashionNetUK

Recent comments...
You must be registered and logged in to post a comment.
All comments submitted on this page do not express the views of MFN, we will endeavor to remove any offensive, rude, defamatory comments.