Fashion
News
5 Minutes with: LescottStewart Co-Founder
Aaron Lescott discusses his new label co-founded with partners Joleon Lescott and Jordan Stewart
On the 17 April 2012, England and Manchester City player Joleon Lescott launched his own clothing label along with his brother Aaron and fellow footballer Jordan Stewart at Manchester Art Gallery. Joleon, Aaron and Jordan have worked in conjunction with designers from Gucci, Alexander McQueen, John Richmond, and Religion to create a brand which they are confident conveys British style, quality, sophistication, with a playful twist. According to Joleon, 'The three of us started as best friends, growing up together and remaining close through our respective footballing careers. We thought it would be great to embark on a fashion project together; building a business that focused on our combined passion for clothing.'
Aaron, why did you, Jordan and Joleon decide to embark on this project together? How long have you been interested in fashion?
The three of us started as friends, growing up together, and remaining best friends through our respective footballing careers. We thought it would be perfect to embark on a project, building a business in something else that we shared a passion for. In the football industry, from a young age, fashion is always around you in excess! Whether it is the day-wear of other players, media aimed at us, sponsorship events or social activities, fashion is second only to football on most players minds. Around 12 months ago, we decided to pursue this passion for fashion and produce our own clothing brand which will relate not just to sports people, but across the whole spectrum of male fashion.

What was the inspiration behind the label's designs?
I believe that because all three of us have our own unique style, with an appreciation for each other's, it gives a great balance and combines to give a fresh look which can be seen in the designs. Our collection should give consumers, across our two ranges, everyday-affordability and aspirational style.

Can you explain the difference between the two brands, LS and Lescott Stewart?
LescottStewart is our flagship label, the higher end of our brand. This collection is based on high quality fabric & a closer fit to include traditional outerwear, jumpers, cardigans, and design tees and vees, all with a twist to give them a more contemporary feel. LS is our diffusion range which is more mass-market, affording quality, but at an everyday price point. This range will include hoodies, jeans, jumpers, tees and vees.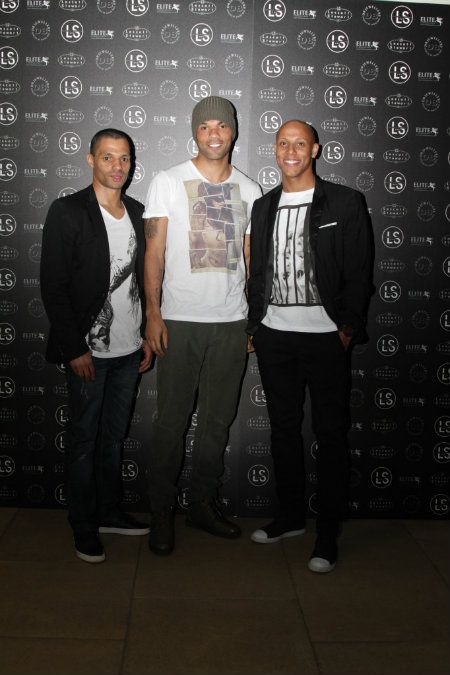 Who is the range aimed at? What is it in competition with that's already out there?
Our range is targeted at males aged 16-40. In creating two brands that cover a wide part of the male consumer's fashion spectrum, we believe we are creating a brand that which will make a firm stamp on the fashion world. Our competition covers high street and high end, but we know there is a place for our brand in the worldwide market.

Does Joleon expect that the range will be popular with his teammates at City & England?
Early feedback, from Joleon showing a few designs from our collection, was very encouraging from some of his football-fashionista-teammates! A lot of his team mates have been nagging him asking when the range is launching, so, hopefully they will all be wearing the clothes all over the world this summer. Having said that, we don't want people wearing the clothes because they feel they have to, we feel its far more important that people wear the clothes because they love what we have done at Lescott Stewart as a brand.
For more information and to watch a video of the launch, please visit http://www.lescottstewart.co.uk/
Recent comments...
You must be registered and logged in to post a comment.
All comments submitted on this page do not express the views of MFN, we will endeavor to remove any offensive, rude, defamatory comments.