Fashion
News
5 Minutes with: Four Seasons Recruitment's Marketing Manager
Four Seasons Recruitment's Marketing Manager Cristina Boydell gives advice on finding a job in London and at TFN's Recruitment Day
Can you tell me a little bit about Four Seasons?
Established since 1981, Four Seasons Recruitment is based in London and is a market leading boutique recruitment agency to the fashion, beauty and retail industry.
What roles do Four Seasons recruit for?
We offer both temporary and permanent jobs, placing candidates into a wide range of disciplines and roles including design, wholesale, buying, merchandising, visual merchandising, technical, production, retail and retail management.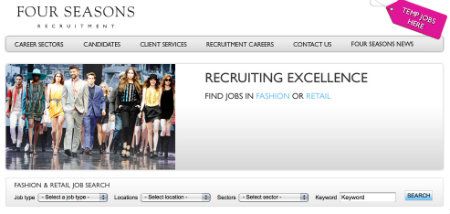 How can you help Manchester students looking to re-locate to London?
Although we have limited graduate level jobs, we also offer temporary opportunities for luxury department stores and brands in the following sectors: Beauty, Fashion, Lifestyle, Fine Jewellery & Watches. We offer temporary opportunities working for luxury department stores and brands within fashion, beauty, spa and aesthetics, fine jewelry and watches and lifestyle sectors. This provides an opportunity for Manchester graduates to relocate to the country's fashion capital, making relevant connections within the industry and enhancing their CV by working for world-renowned brands.
What are going to be looking for on the recruitment day?
We are looking for Temporary Retail Sales Assistants to work over the summer period, working for fashion and beauty brands in London. We offer flexible working hours and great pay; so this is a great way for graduates to earn money and gain relevant retail experience within the industry, while they search for their first permanent role.
Is there anything else you'd like to add?
Both myself, as the Marketing Manager at Four Seasons Recruitment, and Nicole Houldey, Senior Recruitment Consultant, who specialises in Design, Production and Technical roles will be attending the event on May 11th. As International Fashion Marketing graduates from Manchester Metropolitan University ourselves, we're truly looking forward to coming back up North and meeting with fashion students and graduates. We are happy to help guide them in their career path and provide advice on how to make it in the industry as well as CV and interview tips.
For more information about Four Seasons, click here.
To register for The Fashion Network's Recruitment Day, click here.
Interview by Carol Huston.

Recent comments...
You must be registered and logged in to post a comment.
All comments submitted on this page do not express the views of MFN, we will endeavor to remove any offensive, rude, defamatory comments.