Fashion
News
Featured Brand: Native Youth
Native Youth tells The Fashion Network about their fresh new label.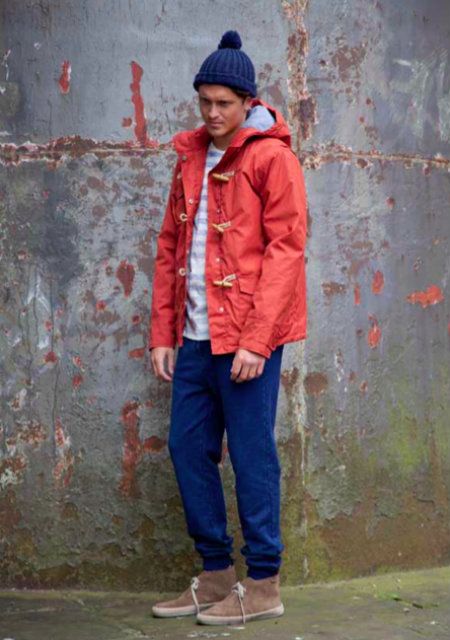 The heritage inspired line draws upon no-nonsense British fashion coupled with Japanese work wear styling which results in a perfect blend of fashion and function. The detailing throughout the range is understated and subtle, with enough richness and individuality for the fashion-conscious man.

Native Youth is described as reflecting the no-nonsense British way of doing things. Signature details create a recognisable look, forming stylish apparel for a confident generation.

With apparel design roots established in the late 70's, over time focus came on creating an exclusive look for the prevailing individual and so in 2011 the Native Youth brand was born. Our aim was to create socially relevant menswear that allows us to showcase the eccentricities of British design with expanded vision, super wearable and rich in understated hidden detail. At Native youth we understand that building a brand is much more than assigning a "designed in England label" and showcasing attractive product. It's about combining irreproachable design, utilising the best fabrics and exclusive fabrications there is available, evolution of styling detail and development of fit.

Since we launched the brand at Stitch in July the reaction to the brand has been unprecedented, with buying teams from leading retailers including Selfridges, ASOS, Urban Outfitters and Coggles already making selections from first AW12 collection. We have invested considerable time and effort to ensure our first collection is well rounded and on trend. Price points are key to the brand, offering a stand-out collection which meets the demands of the style conscious male, who's trend savvy but wants a little more from what's just on offer on the high street but still at an attainable cost.

For wholesale enquiries:
South of England
Juls Dawson
[just] Consultancies
5A Standard Place,
Rivington Street
London
EC2A 3BE
juls@justconsultancies.co.uk
admin@justconsultancies.co.uk
Tel: 0207 739 7620 / 07712 522 874

Ireland
Dermot McGowan
Fabric
26a Westmoreland Street
Dublin 2
Dublin
Ireland
Tel: 00353 16798862
Mob: 00447834 207837
dermotmcgowan@fabric.uk.com
Bennary Smith: tel 00353872340491

North of England
Dermot McGowan
Fabric
2nd Floor
4 Tariff Street
Manchester
M1 2FF
Tel: 0161 236 7670
Mob: 07834 207 837
dermotmcgowan@fabric.uk.com


South West of England

Roy and Tanya Williams
R.W. Agency
Unit 2,
Danny's Court
Ebford
Exeter
EX3 0PA
Tel: 07976 611 392
r.w.agency@usa.net
As told to Greg Thomas

Recent comments...
You must be registered and logged in to post a comment.
All comments submitted on this page do not express the views of MFN, we will endeavor to remove any offensive, rude, defamatory comments.