Fashion
News
Project: Give a little coat, Get a big coat!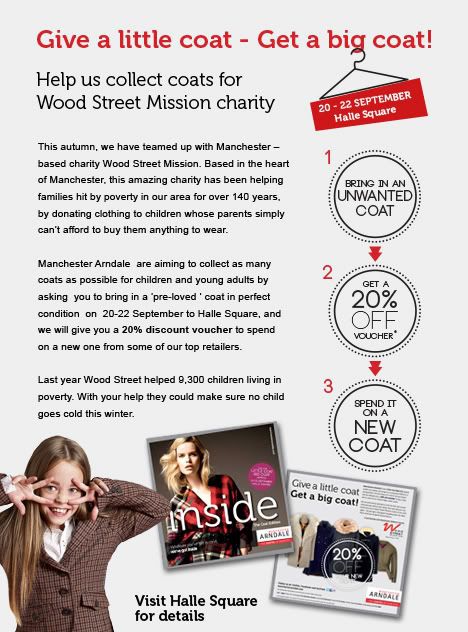 This autumn, the Arndale Centre has teamed up with Manchester – based charity Wood Street Mission. Based in the heart of Manchester, this amazing charity has been helping families hit by poverty in our area for over 140 years, by donating clothing to children whose parents simply can't afford to buy them anything to wear.
Manchester Arndale are aiming to collect as many coats as possible for children and young adults by asking you to bring in a 'pre-loved ' coat in perfect condition on 20-22 September to Halle Square, and we will give you a 20% discount voucher to spend on a new one from some of our top retailers.
We are looking for good quality, clean coats suitable for children in particular and young adults. Last year Wood Street helped 9,300 children living in poverty. With your help they could make sure no child goes cold this winter.
Click here for more information.
Recent comments...
You must be registered and logged in to post a comment.
All comments submitted on this page do not express the views of MFN, we will endeavor to remove any offensive, rude, defamatory comments.